The Allure of Scottsdale
Bask in the unique charm of Scottsdale, Arizona, a perfect blend of natural splendor and sophisticated urban attractions. An oasis in the heart of the Sonoran Desert, this vibrant city teems with luxury spas, world-class golf courses, and a diverse cuisine scene. All around Scottsdale, captivating cultural offerings—from modern art to Native American history—enrich the mind and spirit. Yet, it is the breathtaking natural beauty and distinctive desert climate that truly distinguishes this Southwest gem.
The Seductive Sunsets
Imagine ending each day under the exquisitely painted sky of a Scottsdale sunset. The landscape transforms as the sun descends, casting a warm, golden hue over the rugged desert terrain. Against this backdrop, the iconic saguaro cacti become striking silhouettes, adding to the drama and intensity of the scene. From the alluring vista points of the McDowell Sonoran Preserve to the tranquil serenity of Pinnacle Peak, these sun seductive spectacles captivate hearts and cameras alike.
The Desert Dreams
Scottsdale's Sonoran Desert landscape is an adventurer's playground by day and a dreamer's paradise by night. The rolling hills and towering saguaros provide an exciting setting for hiking, horseback riding, and off-road tours. When night falls, the desert transforms into a dreamscape under a canopy of twinkling stars and the calm, silvery glow of the moon. For the astronomically inclined, the desert offers one of the best natural platforms for stargazing. Meanwhile, the call of nocturnal wildlife serenades the desert dreams, adding a symphony to the mesmerizing tableau of the night.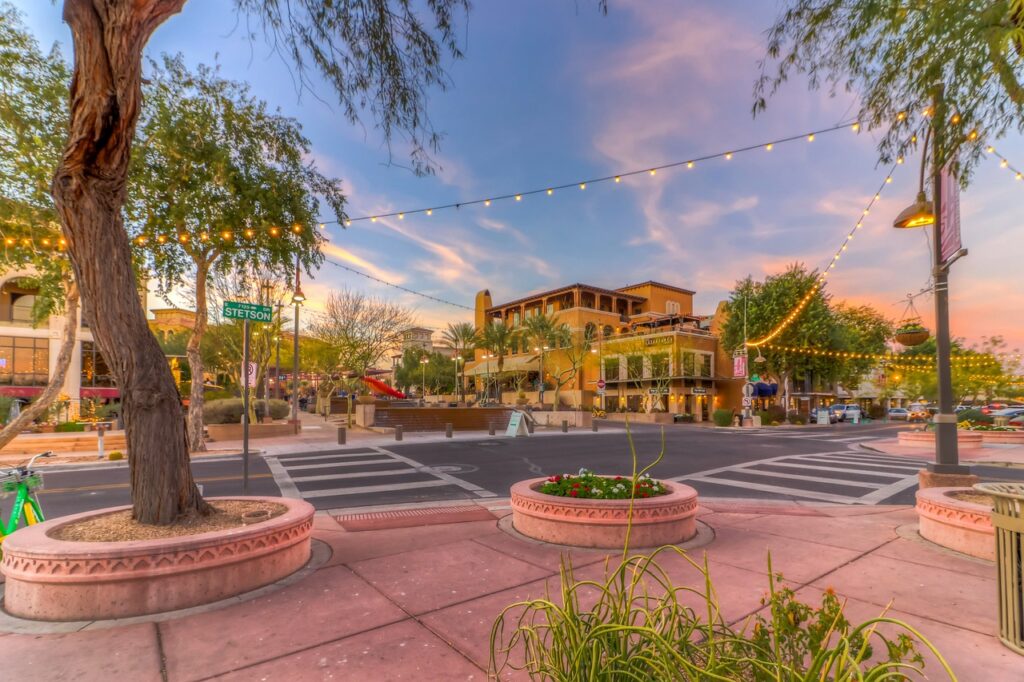 Embracing Romance in Scottsdale
The sublime city of Scottsdale, glowing eternally under the grandest Arizona sun, provides the perfect backdrop for unforgettable romantic escapades. The city's charm is inherently captivating, often enticing the admirers of haute living into experiencing its flamboyance. Among the countless hedonistic pleasures it offers, luxury accommodations, and intimate gastronomical delights are the most desired, serving as an embodiment of the romantic essence that Scottsdale ubiquitously radiates.
Intimate Dining Experiences
Restaurants in Scottsdale take pride in their extraordinarily intimate settings, cradling the diners under the starlit Arizona sky, or by the side of a crackling fireplace, setting the stage for an unforgettable culinary journey. The delectable cuisine, paired with the city's penchant for creating intimate dining experiences, plays an undeniable symphony of romance that lingers on the palate long after the flavors have vanished. Check out Maple and Ash, famous for their hot and cold seafood towers and wine pairings.  And for a fun brunch spot there's Hash Kitchen which has a build your own Bloody Mary bar!
Adventure and Exploration in the Desert
When the sun dominates at its zenith point, the desert unfolds a new dimension of adventurous day-time excursions. Not merely a stretch of infertile land, but a land facilitating dune dashing, quad biking, and camel trekking that tests resilience. The intensity of heat shapes a challenging environment where pursuits like sand boarding or desert safaris help in unfolding the dramatic landscapes and architectural relics of an era long gone, simultaneously indulging their love for adrenaline rush. Enjoy the beauty of the desert by visiting the Desert Botanical Garden which boasts over 40,000 plants and thousands of species. For wine lovers you can checkout the Scottsdale Wine Trail consisting of seven wineries within walking distance of downtown.  For lovers of architecture, Taliesin West is a must see.  It's Frank Lloyd Wright's winter home that was built to blend in with it's natural surroundings.
Get more when you travel with us!
Be our VIP! We will share our insider knowledge, our personalized travel recommendations and get you all the perks!
Call us today!
The Ultimate Luxurious Getaway in Scottsdale
Immerse yourself in an unforgettable experience of luxury, indulgence, and leisure in the sun-drenched city of Scottsdale. Far from the typical tourist hustle, this destination resounds with the promise of plush accommodations, world-class golf courses, and splendid desert scenery. Here, the blend of natural beauty and opulence creates the perfect atmosphere for creating unparalleled holiday memories. Nestled in Arizona's McDowell Mountains, Scottsdale reinvents luxury with its touch of Southwestern charm. The city's desert splendor is complemented by its famed vibrant nightlife, gastronomic establishments, and cultural attractions. Truly, Scottsdale is a haven for luxury seekers.  Mountain Shadows Resort Scottsdale is a luxury boutique resort nestled in the shadows of Camelback Mountain. The Phoenician, a Luxury Collection Resort, Scottsdale is conveniently located near downtown Scottsdale and is perfect for today's luxury traveler.
Spa and Wellness Retreats
At the heart of Scottsdale's quest for opulence punctuated relaxation, Spa and wellness retreats thrive, delivering exquisite serenity that indulges all senses. The city's pampering paradises rival few, with lavish surroundings exclusive to this desert utopia. From pioneering therapies, holistic treatments, hot stone massages to revitalizing body wraps and facials – these tranquil oases are your gateway to supreme relaxation. Embrace absolute tranquility in dazzling settings, whether it's a spa focused on indigenous Pima and Maricopa culture or one with mineral-rich therapeutic waters. The city's wellness retreats relish in their world-renowned reputations, offering bespoke experiences curated to personal needs. Nothing rejuvenates quite like a Scottsdale wellness retreat.
Andaz Scottsdale Resort & Bungalows is known for it's botanical spa treatments at the Palo Verde Spa & Apothecary. The Fairmont Scottsdale Princess offers the highly acclaimed Well & Being spa with a rooftop swimming pool. If you want to explore beyond your hotel visit the Inspire Day Spa and book a couples massage in a lake front suite.
Exclusive Shopping Destinations
Experience a shopping extravaganza like no other in Scottsdale's fashion hubs, where every luxury brand you've ever dreamed of is housed. The exclusive shopping districts cater to the most discerning tastes, offering an eclectic mix of high-end labels, designer boutiques, and artisanal treasures unique to Arizona. Wander around the chic confines of Scottsdale Fashion Square or explore the quaint shops of Old Town for a satisfying shopping spree. Here, the retail experience is more than mere trading; it's a compelling cultural outing immersed in art, craftsmanship, and Arizona's distinctive southwestern finesse. Unravel the shopping possibilities in Scottsdale, where every alley leads to inspiring finds and lavish indulgence.
Ready for a romantic and luxurious getaway in Scottsdale?
Give us a call today to book your romantic getaway in Scottsdale.  We can find the perfect hotel and get you all of the VIP perks such as daily breakfasts and hotel credits.