Stephanie Goldberg-Glazer
Owner – Live Well, Travel Often
Chief Experience Officer
Loves: Porcini mushrooms, her rescue dogs, and, of course, planning her next vacation.
Hates: People that are phony, mayonnaise, and having to wear socks.
Stephanie was literally born into hospitality: she was born at what is now Johnson and Wales University, and by the age of 5 she was pulling bingo numbers and operating the switchboard at her grandfather's South Beach hotel.
Stephanie started Live Well, Travel Often in 2006. It is now a full-service travel agency. Her clients travel to all seven continents, on trips customized to their needs. Stephanie is an accredited Elite Cruise Counselor with CLIA, the highest level of certification from the Cruise Lines Industry Association. She is an expert in group travel and coordination. She works tirelessly to get her clients the best possible vacation experiences at exceptional prices.
Stephanie writes an award-winning travel blog, Florida Keys Girl, documenting life in the Florida Keys and Key West and travels around the world.
Contact Stephanie via email or phone 1 (855) 940-1119, ext. 1 to start planning your dream vacation today.
Get more when you travel with us!
Be our VIP! We will share our insider knowledge, our personalized travel recommendations and get you all the perks!
Book now!
Ari Glazer
Vice President, Things Nobody Else Will Do
Loves: Learning new things, history, food, wine, his rescue dogs and playing tennis 
Hates: Narrow-minded people, being late, crowds 
Travel has always been an important part of Ari's life, and became far more so once he met and married Stephanie.  Being able to visit the places where important (and unimportant) moments in history took place has always been fascinating to Ari.
After a successful 25 year career as a lawyer including working on some of the biggest cases in the country, Ari decided to work in travel rather than continue to work to travel. In fulfilling a long- time dream of working with Stephanie, Ari is excited to help make our clients' dreams come true.
Contact Ari via email or phone 1 (855) 940-1119, ext. 3
Rolando Chang
Executive Assistant
Loves: Pizza, Sunsets at the beach, and laughing with friends.
Hates: Being late, not having morning coffee, and packed gyms.
Rolando is a lover of life's simple pleasures: pizza, beach sunsets, and laughter with friends. They despise being late, missing morning coffee, and crowded gyms. An easy-going soul who values time and cherished connections.
Contact Rolando via email or phone 1 (855) 940-1119, ext. 5
Debbie Horres
Professional Travel Advisor
Loves: Being outdoors, playing tennis, gardening and planning new adventures.
Hates: People that refuse to try new foods, clutter, and extreme cold.
Travel has been a very important part of Debbie's life for as long as she can remember. After many years of planning trips for friends, family, and non-profit organizations, she joined Live Well, Travel Often as a Professional Travel Advisor. Debbie has travelled extensively and looks forward to helping make your next travel experience one to remember.
Contact Debbie via email or call 1 (214) 914-4178.
Kimberly Tidwell
Professional Travel Advisor
Loves: Sunshine, long walks, pretty much any animal, boating and planning vacations!
Hates: Drama, sweet drinks, and cold & rain! 
Kimberly grew up flying on her father's company planes.  She and her husband are avid travelers and she has enjoyed helping friends and family plan vacations for the last 17 years. They moved to Florida in September of 2021 and love living in the Sunshine State! Kimberly looks forward to helping you plan your next AMAZING vacation!
Contact Kimberly via email or call 1 (770) 845-2218.
Joelle Dwyer
Administrative Coordinator
Loves: My pets (Star the cat and Petals the dog), Traveling to new places, and cars. 
Hates: The sound two balloons make when you rub them together and naps. 
Joelle is from Indianapolis, IN but decided to move south for the mountains of North Carolina. Growing up, her mother worked in the travel industry and as a result, Joelle traveled all over the U.S. She's always loved to travel. That love has translated into a career in the travel industry and multiple visits overseas including living in Scotland for a year. Joelle has pursued varying career fields, but returning to the travel industry feels like home. 
Contact Joelle via email.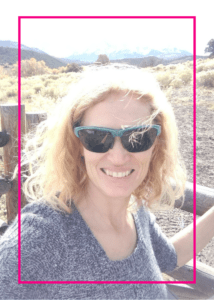 Brandy Klobuchar
Marketing Coordinator |Office Genius
Loves: New experiences, good organization, books, and relaxing in a beautiful location.
Hates: Bad smells, dogs that bark for no reason, and clutter. 
Brandy currently resides in New Mexico, but has lived all over the mountain west.  Travel has been a part of her life since the moment she came into this world as she was actually born during her parents' vacation.  Brandy has worked in marketing, specializes in organization, and enjoys the various details involved in planning vacations.