Saint Lucia's Most Luxurious Hotels
Saint Lucia, a mesmerizing island in the Caribbean, is home to some of the world's finest luxury hotels. The island's beauty, combined with its world-class accommodations, has made it a popular destination for honeymooners, luxury travelers, and adventure enthusiasts. Let's explore the top-tier resorts that have set new benchmarks in opulence and comfort.
The BodyHoliday Saint Lucia
The BodyHoliday is more than a resort; it's an experience, a philosophy that puts the wellness of its guests at the heart of its offering. Nestled on the pristine Cariblue Beach, this stunning property promises a rejuvenating retreat. The hotel's wellness-focused approach is embodied in its tailor-made programs and activities, including yoga, scuba diving, and tennis. Its luxurious rooms offer breathtaking ocean views, perfect for unwinding after a day of exploration or relaxation.
Jade Mountain Resort
Next on the list is Jade Mountain Resort, a marvel of architecture and luxury. The resort's unique design, with its suspended infinity pools and rugged stoned-faced columns, offers an unparalleled view of the Pitons and the surrounding sea. The suites, or 'sanctuaries' as they're referred to, provide the ultimate in privacy and comfort. With no fourth wall, each sanctuary opens up to the beauty of Saint Lucia, promising an unforgettable stay.
Sugar Beach, A Viceroy Resort
Set between the Pitons, Sugar Beach, A Viceroy Resort, is a true gem. Its location offers direct access to both the lush rainforest and the clear, blue waters of the Caribbean. The villa-style accommodations are a blend of British Colonial and contemporary design, offering a unique aesthetic experience. Guests can indulge in a range of activities including rainforest hikes, water sports, and indulgent treatments at the Rainforest Spa.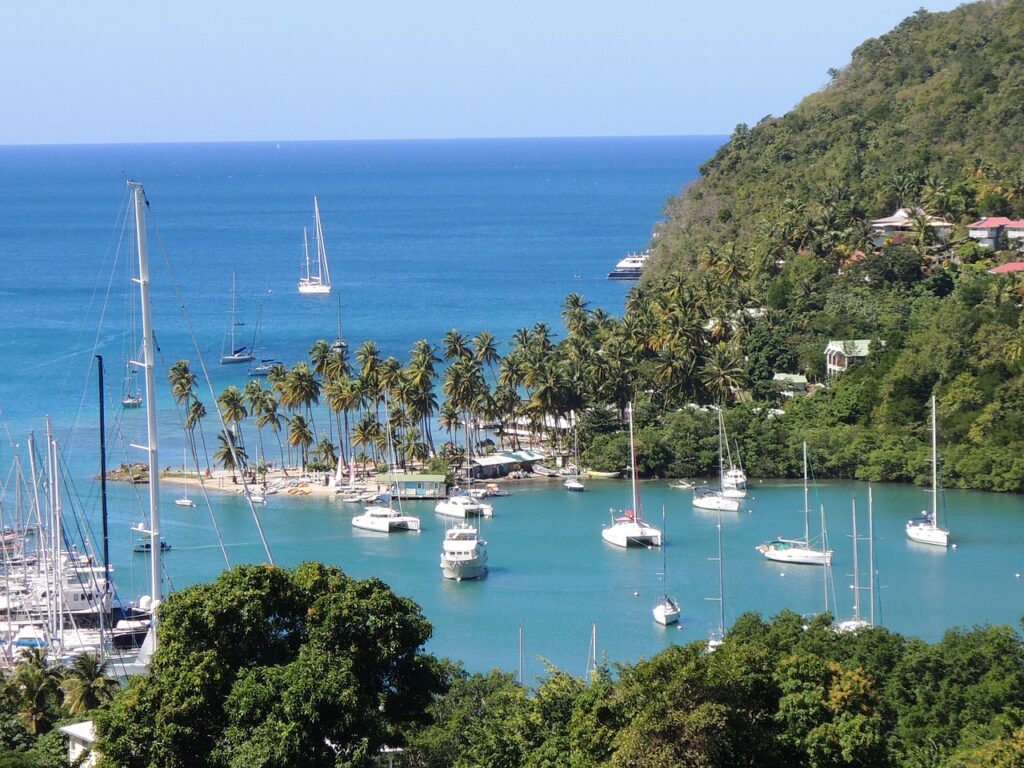 Cap Maison Resort & Spa
Cap Maison Resort & Spa is a family-owned boutique hotel located on an oceanfront cliff top. It offers a distinctive Mediterranean feel with its Spanish Caribbean architecture. The resort prides itself on its personalized service and attention to detail, ensuring a memorable stay for its guests. The Cliff at Cap, the resort's award-winning restaurant, serves delectable dishes with an enchanting view. The resort also boasts a private wine cellar, an extensive spa, and a variety of water sports for the adventure-inclined.
Get more when you travel with us!
Be our VIP! We will share our insider knowledge, our personalized travel recommendations and get you all the perks!
Book now!
Exploring the Surroundings of These Luxury Hotels
When you opt for a stay in an upscale hotel, the immediate surroundings and nearby attractions often play a significant role in enhancing your overall experience. The beauty of luxury accommodations is not confined to their grand interiors and world-class services; it extends to the picturesque landscapes, historic sites, and vibrant local markets surrounding them. Let's embark on a virtual journey and explore the wealth of attractions that beckon from the vicinity of these luxurious retreats.
Natural Attractions in Saint Lucia
Imagine waking up to the sight of the majestic Piton Mountains or the mesmerizing hues of a Caribbean sunrise. This is exactly what luxury hotels in Saint Lucia offer. This volcanic island is adorned with natural wonders, from the Sulphur Springs Park – the world's only drive-in volcano, to the lush Diamond Botanical Gardens housing the enchanting Diamond Waterfall. The exquisite beaches like Reduit Beach and Anse Chastanet provide opportunities for water sports, making Saint Lucia a paradise for nature lovers and adventure enthusiasts alike.
Historical Sites Near Luxury Hotels
Many luxury hotels are strategically located close to significant historical sites, providing their guests with an opportunity to imbibe the rich heritage of the region. For instance, the luxury hotels in Rome are a stone's throw away from iconic landmarks such as the Colosseum, Roman Forum, and the Pantheon. Similarly, hotels in Athens are conveniently located near the world-famous Acropolis, while those in Istanbul offer easy access to the monumental Hagia Sophia and Topkapi Palace. These historical sites, steeped in history and culture, add an extra layer of charm to your luxury stay.
Local Markets and Shopping Areas
A visit to the local markets and shopping areas is an integral part of exploring the vicinity of luxury hotels. Whether it's the bustling Souks in Marrakech selling a variety of handcrafted goods, the colorful floating markets in Bangkok, or the sophisticated boutiques lining the streets of Paris, each offers a unique shopping experience. Luxury hotels often provide personalized shopping guides or shuttle services to these markets, making it convenient for their guests to shop for souvenirs, local handicrafts, local spices, and more. The vibrant local markets not only offer a glimpse into the everyday life of the locals but also present a chance to bring back a piece of the destination home.
Booking Your Luxury Stay in Saint Lucia
Immerse yourself in an unforgettable experience by securing a lavish accommodation in Saint Lucia. This Caribbean gem offers a plethora of high-end resorts, boutique hotels, and villas that seamlessly amalgamate comfort, elegance, and breathtaking views. Choose a beachfront property, like a luxury villa or a posh hotel, to enjoy the mesmerizing turquoise waters and pristine white sands. Alternatively, you can opt for a hillside retreat, providing panoramic views of the lush tropical landscapes and the iconic Pitons. Online portals facilitate easy booking; simply filter your preferences for location, amenities, and price range, and select the perfect haven for your dream holiday.  Work with your Live Well, Travel Often advisor to find the best resort to suit your needs.
Best Time to Visit Saint Lucia
When it comes to planning your itinerary, it's crucial to consider the optimal season to visit Saint Lucia. The island boasts a tropical weather year-round, but the most favorable time for tourism is typically from December to April, during the dry season. This period offers abundant sunshine, minimal rainfall, and moderate temperatures, making it ideal for beach lounging, hiking, and exploring the local attractions. However, if you're seeking fewer crowds and discounted rates, consider traveling during the shoulder season, between May and June. Despite occasional showers, these months still provide ample opportunities for outdoor adventures and cultural experiences. Keep in mind that the hurricane season runs from June to November, but severe storms are relatively rare. Therefore, regardless of the time you choose, you're bound to have a memorable trip in Saint Lucia.
Nestled in the Eastern Caribbean archipelago, Saint Lucia stands as a beacon of luxury and tranquility. The island nation, renowned for its mesmerizing landscape, boasts a vibrant blend of mountains, rainforests, and some of the most enchanting beaches worldwide. A favorite amongst celebrities and discerning travelers, Saint Lucia offers a unique fusion of Creole culture and contemporary sophistication. The destination is not just a tropical paradise but a haven for those seeking exclusivity and unparalleled luxury experiences.
The Allure of Saint Lucia
What makes Saint Lucia so captivating is its natural splendor coupled with an array of world-class amenities. From the iconic Pitons, UNESCO World Heritage Sites, to the Sulphur Springs, the world's only drive-in volcano, the island is a hub of unique attractions. Added to this are the chic boutique resorts, exquisite restaurants, and thrilling adventures, both on land and underwater. The island's charm is further enhanced by its friendly locals, who are always ready to share their vibrant culture and rich history. Not to mention, the year-round festivals that fill the air with music and festivities, making every visit to Saint Lucia a celebration.
Why Luxury is Synonymous with Saint Lucia
Saint Lucia has earned its reputation as a luxury destination due to its commitment to offer only the finest to its visitors. The island is home to a selection of five-star resorts that offer unparalleled views of the Caribbean Sea and the Atlantic Ocean. These resorts are not just places to stay, but experiences in themselves, offering personalized services, gourmet dining, and state-of-the-art wellness facilities. Moreover, Saint Lucia's luxury extends beyond its accommodations. The island's exclusive yacht services, private helicopter tours, and bespoke excursions add a layer of extravagance to the visitor's experience. A trip to Saint Lucia is not just a holiday, but an immersion in opulence and grandeur, making it synonymous with luxury.
Conclusion: The Epitome of Luxury in Saint Lucia
As one explores the many breathtaking attractions that Saint Lucia has to offer, it becomes evident that this Caribbean gem is the epitome of luxury. From the lush, tropical landscapes to the pristine beaches, every aspect of this paradise reflects an unparalleled level of opulence. The resorts situated on this island are renowned for their world-class amenities, sophisticated architecture, and impeccable service. They provide discerning travelers with an exclusive retreat, where they can unwind amidst the island's tranquil ambiance and indulge in the finest luxuries. The local cuisine, rich in flavors and culinary traditions, further enhances the luxurious experience, leaving visitors with an unforgettable taste of Saint Lucia.
Relishing in the Opulence
Delving deeper into the opulence that Saint Lucia has to offer, it becomes apparent that luxury here goes beyond the physical realm. It is deeply ingrained in the island's culture and lifestyle, reflected in the gracious hospitality of the locals and the tranquility that pervades the atmosphere. Here, luxury is not just about living in grandeur, but also about enjoying the simple yet profound pleasures of life. Whether it is soaking up the sun on the pristine sandy beaches, immersing in the island's natural beauty, or savoring the exquisite local cuisine, every moment spent in Saint Lucia is an opportunity to relish in the opulence that the island has to offer.
Creating Unforgettable Memories
The luxurious experiences that Saint Lucia has to offer do not merely satisfy the senses, but they also create unforgettable memories. Each moment spent on this idyllic island is a precious memory waiting to be made. Whether it is the breathtaking views of the Pitons, the exhilarating water sports activities, the tranquil spa sessions, or the romantic sunset dinners, every experience is unique and memorable. Moreover, the warmth and friendliness of the locals, the vibrant local culture, and the island's serene ambiance make the memories even more special. Thus, a visit to Saint Lucia is not just a luxury vacation, but a treasure trove of unforgettable memories.
Ready to stay in one of these luxury hotels in Saint Lucia?
Let us find the perfect luxury hotel for you in Saint Lucia.  The benefits vary from property to property but we will do our best to offer you:
Upgrade on arrival, subject to availability

Daily Full Breakfast, up to two guests per room
USD 100 Hotel Credit
Early Check-In / Late Check-Out upon request (subject to availability)
Complimentary Wi-Fi
Contact your Live Well, Travel Often advisor to book your UPGRADED experience and get a list of property specific amenities.
Explore more luxury hotels in the Caribbean