Experience Paradise: A Cruise Day Trip to Bimini, Bahamas by Golf Cart
If you're looking for a unique and unforgettable adventure during your cruise to Bimini, Bahamas, why not explore the island by golf cart? This day trip allows you to experience the stunning paradise of Bimini at your own pace, taking in the beautiful sights and enjoying the freedom of exploring on four wheels. Don't miss out on this perfect cruise excursion that promises a day filled with fun and adventure.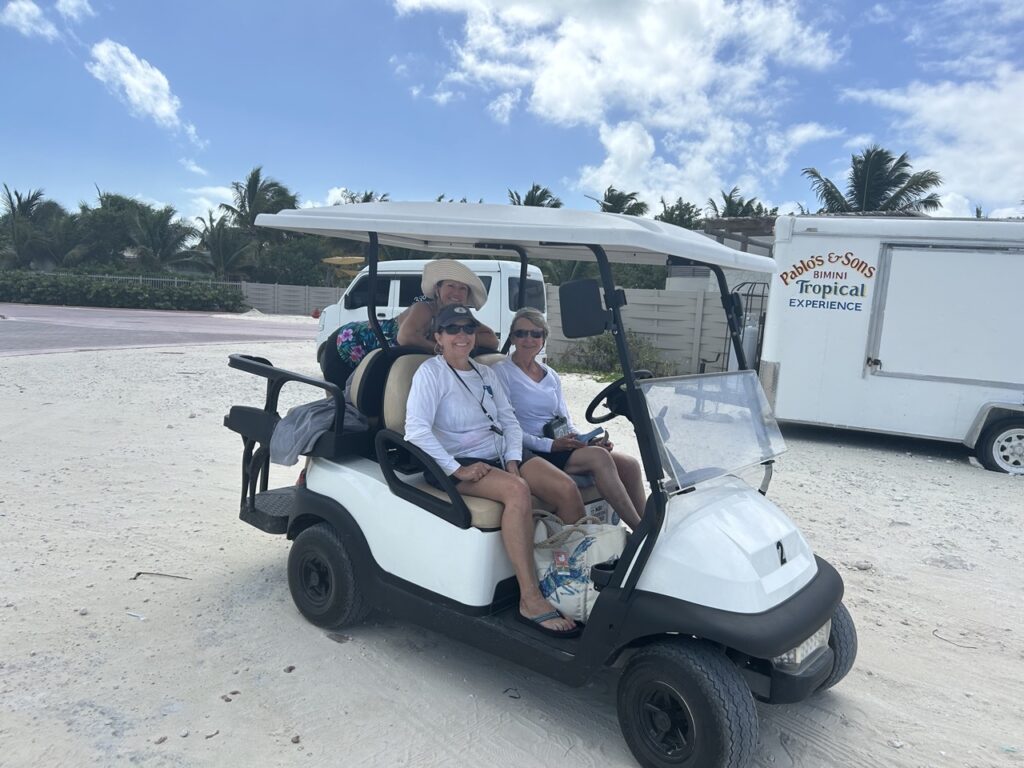 Discover the Beauty of Bimini.
Bimini, Bahamas is a hidden gem waiting to be discovered. With its crystal-clear turquoise waters, white sandy beaches, and vibrant marine life, this island paradise is a must-visit destination. Explore the beauty of Bimini by hopping on a golf cart and embarking on a day trip like no other. Cruise along the scenic coastline, stop at secluded beaches, and immerse yourself in the natural wonders that this island has to offer. Don't miss out on the opportunity to experience the beauty of Bimini on this unforgettable adventure.
Get more when you travel with us!
Be our VIP! We will share our insider knowledge, give you customized, personalized travel recommendations and get you all the perks!
Call us today!
Explore the Island at Your Own Pace.
One of the best ways to truly experience the beauty of Bimini, Bahamas is by exploring the island at your own pace. And what better way to do that than by hopping on a golf cart? With a golf cart, you have the freedom to go wherever you want, whenever you want. Cruise along the scenic coastline, stop at secluded beaches, and take in the breathtaking views of the crystal-clear turquoise waters. Whether you want to relax on the beach, go snorkeling, or simply enjoy the stunning scenery, a golf cart allows you to do it all on your own terms. So don't miss out on the opportunity to explore the island at your own pace and create unforgettable memories in this paradise.
Visit Bimini's Top Attractions.
Bimini, Bahamas is home to some of the most stunning attractions in the Caribbean. From pristine beaches to vibrant coral reefs, there is something for everyone to enjoy. One of the top attractions in Bimini is the famous Bimini Road, an underwater rock formation believed by some to be the remains of an ancient civilization. Snorkeling or diving in this area is a must for any visitor. Another popular attraction is the Fountain of Youth, a natural spring said to have healing properties. Visitors can take a dip in the refreshing waters and experience the rejuvenating effects for themselves.
Another unique stop is the Dolphin Museum. The Dolphin House Museum, also known as a "Poem in Stone," was created in 1993 by Ashley Saunders, a local author and historian from Bimini. This unique museum is a three-story structure that is inspired by dolphins and the ocean. What makes it even more special is that it was built using recycled materials, adding to its eco-friendly appeal. Visitors can explore this one-of-a-kind museum and learn about the rich history and culture of Bimini.
Enjoy the Stunning Beaches and Crystal Clear Waters.
Bimini, Bahamas is known for its stunning beaches and crystal clear waters, making it the perfect destination for beach lovers and water enthusiasts. Whether you're looking to relax on the soft white sands or take a dip in the turquoise waters, Bimini has it all. Some of the most popular beaches include Alice Town Beach, Radio Beach, and Blister Beach, each offering its own unique charm and beauty. Spend your day sunbathing, swimming, or even trying out water sports like snorkeling or paddleboarding. The breathtaking views and tranquil atmosphere will leave you feeling refreshed and rejuvenated. Don't forget to pack your sunscreen and beach towel for a day of pure bliss in paradise.
Create Unforgettable Memories on Your Day Trip.
A day trip to Bimini, Bahamas by golf cart is the perfect opportunity to create unforgettable memories. As you explore the island, you'll be surrounded by stunning scenery and breathtaking views. Capture the beauty of the crystal clear waters and white sandy beaches with your camera or simply take in the sights with your own eyes. Stop by local shops and restaurants to immerse yourself in the vibrant culture and taste delicious Bahamian cuisine. Whether you're traveling solo, with friends, or with family, a day trip to Bimini is sure to be an adventure you'll never forget. So hop on a golf cart and get ready to experience paradise like never before.
Ready to Cruise to Bimini?
There are many lines from which to choose to make your sailing getaway to Bimini, here are a few of our favorites!  From style to pizazz and adult only to family friendly.  You pick and I'll book!
Celebrity Cruises is a premium cruise line that offers travelers the opportunity to explore destinations around the world. With a focus on elevated dining and refined on-cruise experiences, Celebrity Cruises provides a luxurious and unforgettable vacation experience. One of their popular destinations is Bimini, where travelers can enjoy the beautiful beaches and vibrant culture of this tropical paradise.
Virgin Voyages is a luxurious cruise line that is exclusively for adults. It offers an unforgettable sailing adventure to a myriad of paradise destinations such as the Bimini in the Bahamas, the vibrant Caribbean, the picturesque Mediterranean, and beyond.
Royal Caribbean Cruises, a renowned cruise line, is known for its cutting-edge approach to cruising. With a wide range of entertainment options, diverse dining choices, and activities suitable for all ages, Royal Caribbean Cruises ensures a memorable experience for the entire family. They sail to destinations all over the world including the Bahamas and Caribbean.