Discover the Unparalleled Charm of San Francisco: The Ultimate Guide to its Top 10 Must-See Attractions
San Francisco, a city known for its eclectic blend of architecture, diverse culture, and breathtaking landscapes, has a unique charm that is hard to resist. With its iconic landmarks, vibrant neighborhoods, and innovative culinary scene, the city offers an array of exciting experiences. The Golden Gate Bridge, Alcatraz Island, and the bustling Chinatown are just a handful of the attractions that make San Francisco a must-visit destination. The city's mild climate, combined with its scenic beauty and thriving arts scene, make it an attractive destination for both tourists and locals.
Get more when you travel with us!
Be our VIP! We will share our insider knowledge, our personalized travel recommendations and get you all the perks!
Book now!
Overview of the City and Its Unique Appeal
San Francisco, often referred to as the 'City by the Bay', boasts a stunning natural setting. Located on a peninsula, it's surrounded by the Pacific Ocean and the San Francisco Bay, offering spectacular ocean views and beautiful beaches. Its hilly terrain provides panoramic cityscapes, with the famous cable cars offering a unique way to navigate the city's steep streets. The city is also known for its architectural diversity, with Victorian homes lining the streets alongside modern skyscrapers. San Francisco's vibrant cultural scene, with its multitude of festivals, museums, and theaters, adds to the city's appeal.
Importance of Sightseeing in San Francisco
Exploring San Francisco is an essential part of any visit to the city. Sightseeing allows visitors to immerse themselves in the city's rich history and diverse culture. Must-see landmarks include the Golden Gate Bridge, with its distinctive red color and impressive engineering, and Alcatraz Island, a former prison with a fascinating history. Exploring the diverse neighborhoods, such as the bustling Chinatown and the vibrant Mission District, provides a glimpse into the city's multicultural heritage. A visit to the city's parks, including the expansive Golden Gate Park, is a must for nature lovers. In addition, the city's food scene, with its innovative restaurants and food markets, offers a gastronomic adventure that should not be missed.
The Iconic Golden Gate Bridge
The majestic structure extending its arms over the San Francisco Bay, known as the Golden Gate Bridge, is a remarkable engineering marvel. This international orange beauty, standing tall since 1937, is a symbol of resilience, determination, and exceptional design. It is a representation of the city's vibrant spirit, providing a visual treat to millions of visitors each year. The bridge, with its art deco detailing and robust suspension system, stretches 1.7 miles, making it a prominent landmark on the American West Coast.

Historical Significance of the Golden Gate Bridge
Immersed in rich history, the construction of the Golden Gate Bridge marks a significant period in American industrial history. Despite the Great Depression, the ambitious project was completed, reflecting the perseverance of the time. It not only served as a critical transportation link, connecting San Francisco to Marin County, but also boosted the local economy by providing employment opportunities. The bridge, designed by Joseph Strauss, is a testament to human ingenuity and determination, overcoming numerous challenges, including financial constraints and harsh environmental conditions. Today, it stands as a symbol of the city's historic past and progressive future.
Best Vantage Points and Photo Opportunities
Photography enthusiasts and sightseers are drawn towards the Golden Gate Bridge for its breathtaking vistas and unique photo opportunities. Several vantage points provide panoramic views of this architectural masterpiece against the backdrop of the city skyline and the shimmering bay. Battery Spencer, located on the Marin County side, offers an unobstructed view of the bridge and the city beyond. Fort Point, a historic military fort at the southern base of the bridge, provides a unique perspective, allowing one to capture the towering grandeur of the structure. Hawk Hill, on the northern side, is a popular spot for photographing the bridge enveloped in the city's iconic fog. Each of these locations offer a unique perspective of this iconic landmark, making them must-visit sites for anyone visiting San Francisco.
The Historic Alcatraz Island
Located in the heart of San Francisco Bay, Alcatraz Island, often referred to as "The Rock," is a landmark that carries a rich and complex history. Known for its infamy as a maximum-security prison, this island has a lot more to offer. From its origins as a military fortification to its current status as a national park, Alcatraz Island's significance extends far beyond its notorious prison cells.
History and Importance of Alcatraz Island
The story of Alcatraz Island starts long before it became an infamous penitentiary. The island saw its first uses as a military defense fort during the Gold Rush era, transforming into a military prison in the late 19th century. It wasn't until 1934 that Alcatraz was repurposed as a federal prison to house some of the country's most notorious criminals, including Al Capone and Robert Stroud, the "Birdman of Alcatraz." After its closure as a prison in 1963, Alcatraz became the site of a historic 19-month occupation by the "Indians of All Tribes" in 1969, advocating for Native American rights and sovereignty. Today, Alcatraz serves as a reminder of various historical periods, each leaving its unique mark on the island.
Guided Tours and Attractions on Alcatraz Island
Currently managed by the National Park Service, Alcatraz Island is open to the public for exploration. Visitors can embark on a journey through time, discovering the many layers of Alcatraz's history. A popular attraction is the cellhouse audio tour, which provides a hauntingly immersive experience of the former prison, featuring actual voices of inmates and guards. Beyond the prison, visitors can explore the island's natural beauty and diverse wildlife, including nesting seabird colonies. The island also plays host to various art installations and exhibits throughout the year, adding another layer of interest to this historic landmark.
The Vibrant Fisherman's Wharf
Located in the city of San Francisco, Fisherman's Wharf is a bustling hub that never fails to captivate the hearts of its visitors. This iconic waterfront area, known for its exceptional charm and lively atmosphere, offers an array of experiences. From picturesque views to historic sites, it provides endless opportunities for exploration and enjoyment. Its vibrant energy is palpable, as street performers entertain crowds, and the scent of freshly cooked seafood fills the air. As a landmark destination, the Wharf continues to attract tourists from around the globe, each one eager to immerse themselves in the rich culture and beauty of this unique locale.
Attractions and Activities at Fisherman's Wharf
As a hotspot for entertainment, Fisherman's Wharf boasts numerous attractions. These include the renowned Pier 39, famous for its playful sea lions, and the Maritime Museum, where visitors can delve into seafaring history. For a more adventurous experience, one might venture to the Ripley's Believe It or Not! Odditorium or embark on a thrilling night-time ghost tour. No visit to the Wharf would be complete without a cruise around the bay, with the Golden Gate Bridge and Alcatraz Island providing stunning backdrops. The area also offers a variety of shopping options, from unique boutiques to well-known chains, catering to all tastes and budgets.
Culinary Delights at Fisherman's Wharf
Food enthusiasts will find themselves in a paradise at Fisherman's Wharf, where an assortment of culinary delights awaits. The area is famed for its seafood, with dishes such as clam chowder in sourdough bread bowls and fresh Dungeness crab being local favorites. The Wharf's restaurants offer a diverse range of cuisine, from traditional Fish and Chips to upscale dining experiences. For those with a sweet tooth, Ghirardelli Square with its world-renowned chocolate shop and ice cream parlor is a must-visit. Whether you prefer casual street food or gourmet meals, the Wharf offers a culinary journey that satisfies every palate.
The Colorful Haight-Ashbury District
Located in the heart of San Francisco, the Haight-Ashbury district, often referred to as "The Haight," is a vibrant and colorful neighborhood with a rich, countercultural history. A central hub for artistic expression and innovation, the area exudes an inimitable charm that captivates both locals and tourists alike. The streets, lined with classic Victorian homes, are a canvas of psychedelic murals and graffiti art, reflecting the district's enduring legacy as a symbol of creativity and freedom. The neighborhood's unique character is further accentuated by its eclectic mix of boutiques, record stores, and coffee shops, each adding to the diverse cultural fabric of Haight-Ashbury.
Significance of Haight-Ashbury in the Hippie Movement
In the 1960s, the Haight became the epicenter of the hippie movement, a counter-culture revolution that challenged societal norms and championed ideals of peace, love, and harmony. The district played host to the iconic 'Summer of Love' in 1967, attracting thousands of young people from around the world to its music festivals, poetry readings, and political rallies. The neighborhood's influence on the era is still palpable today, with its streets bearing the names of influential figures and events from the period. The Haight-Ashbury district remains a living testament to the hippie movement, embodying its spirit of non-conformity and individuality in its every corner.
Unique Shops and Cafes in Haight-Ashbury
Among the district's many treasures are its unique shops and cafes, each offering a distinct slice of Haight-Ashbury's diverse culture. From vintage clothing stores housing rare 60s fashion pieces to record shops boasting extensive collections of vinyl, the Haight's retail scene is as varied as its history. The neighborhood's cafes and eateries further enrich its cultural tapestry, serving everything from locally-sourced organic fare to global cuisines. Whether you're browsing through a treasure trove of retro memorabilia or sipping on a cup of artisanal coffee, the Haight-Ashbury district offers an immersive experience that is truly one-of-a-kind.
The Expansive Golden Gate Park
Sprawled over a thousand acres, the Golden Gate Park in San Francisco is an urban oasis, teeming with natural beauty and an array of exciting attractions. This verdant expanse, larger than New York's Central Park, is renowned for its rich history, diverse flora and fauna, and a plethora of recreational opportunities. Its meticulously designed landscapes, mesmerizing sunsets, and serene lakes invite millions of visitors annually, making it one of the most visited city parks in the U.S. The park's unique charm lies in its ability to offer something for everyone, from nature enthusiasts and history buffs to art lovers and sports aficionados.
Key Attractions and Landmarks in Golden Gate Park
The park is home to a multitude of attractions that are sure to captivate any visitor. The California Academy of Sciences, one of the largest natural history museums in the world, offers a fascinating exploration of life on Earth. The De Young Museum, famed for its American art collection, and the Asian Art Museum, housing one of the most comprehensive Asian art collections globally, are must-visits for art appreciators. The Conservatory of Flowers, a picturesque Victorian-era glass greenhouse, showcases a stunning variety of tropical plants. The Japanese Tea Garden, the oldest public Japanese Garden in the U.S., and the Shakespeare Garden, featuring plants from the bard's plays, offer tranquil retreats amidst nature's splendor. The park's landmarks like the Dutch Windmill and the Buffalo Paddock are also worth exploring.
Recreational Activities in Golden Gate Park
Golden Gate Park provides ample avenues for recreational pursuits. Active individuals can enjoy cycling, roller skating, tennis, disc golf, and horseback riding along its meandering trails and sports facilities. The park's beautiful lakes offer boating opportunities, while its open spaces are perfect for picnics, yoga, or simply soaking up the sun. The park also hosts free concerts and cultural events throughout the year, adding to its vibrant atmosphere. For those seeking a more laid-back experience, peaceful strolls through its various gardens or quiet reflection by the Lily Pond can provide the much-needed respite from the city's hustle and bustle. With such an astonishing array of offerings, Golden Gate Park truly is a recreational paradise.
The Culturally Rich Chinatown
When you step into the lively streets of Chinatown, it's like being transported into another world. This vibrant neighborhood, found in various cities across the globe from San Francisco to London, boasts a distinctive cultural richness that is a testament to the enduring spirit and heritage of the Chinese diaspora. Its colorful, bustling streets echo with the sounds of a thousand stories, each one adding a unique thread to the rich tapestry of Chinese history, tradition, and legacy that is woven into the very fabric of Chinatown.
History and Influence of Chinatown
Chinatown's roots run deep, tracing back to the mid-19th century when the first wave of Chinese immigrants arrived in cities like San Francisco in search of better opportunities. Despite facing adversity and discrimination, these immigrants established tight-knit communities, which evolved into today's Chinatowns. Known for their resilience, these neighborhoods have played a pivotal role in shaping the cultural, economic, and social landscapes of their respective cities. Over time, they have become symbols of cultural pride, showcasing the Chinese community's significant contributions to the world's multicultural tapestry.
Food, Shopping, and Attractions in Chinatown
Visitors to Chinatown are immediately greeted by an array of sensory delights. From tantalizing street food stalls serving traditional Chinese delicacies to quaint shops offering a myriad of artifacts, Chinatown is a paradise for food enthusiasts, shoppers, and culture seekers alike. Highlights include dim sum joints, tea houses, herbal medicine stores, and souvenir shops selling everything from Chinese calligraphy scrolls to jade jewelry. Not to forget the awe-inspiring Chinese temples, museums, and historic landmarks that offer a glimpse into the rich history and cultural heritage of the Chinese community. Chinatown is more than just a neighborhood; it's a vibrant, living testimony to the enduring legacy of the Chinese diaspora.
The Stunning Palace of Fine Arts
San Francisco's iconic structure, The Palace of Fine Arts, stands as a testament to the city's rich cultural and architectural heritage. This remarkable edifice, a beacon of the city's enduring spirit, captivates visitors with its grandeur and the serene ambiance of its surroundings. Nestled in the heart of the Marina District, it offers a captivating view of the city's skyline, making it a popular spot for tourists and locals alike.
History and Architecture of the Palace of Fine Arts
Unveiled to the public during the Panama-Pacific International Exposition in 1915, this architectural marvel was the brainchild of Bernard Maybeck. His vision was to create a structure that encapsulated the spirit of the Renaissance period, and he executed this with finesse. The Palace's design is heavily influenced by Roman and Ancient Greek architecture, evident in its grand rotunda, colonnades, and the intricate sculptures that adorn its facade. The rich history of this edifice is palpable, and its unique architectural style makes it a standout amongst the city's modern skyline.
Events and Performances at the Palace of Fine Arts
More than just an architectural marvel, the Palace of Fine Arts is a bustling hub of cultural activity. Its theatre, a 962-seat venue, plays host to an array of performances, ranging from concerts and plays to ballets and stand-up comedy shows. The Palace's Exhibition Center is home to a variety of events such as art exhibitions, trade shows, and conventions. Aside from these, the Palace of Fine Arts is also a favorite location for weddings, photoshoots, and picnics, thanks to its picturesque exterior and tranquil lagoon. It is indeed a place where art, culture, and community converge.
The Picturesque Lombard Street
Envision an iconic landmark, located in the heart of San Francisco, synonymous with grace, beauty, and intricate design. That's Lombard Street for you. Known as the "Crookedest Street in the World", this stunning location offers an enticing blend of natural beauty and architectural marvel. Vibrantly colored Victorian mansions line up on both sides of this brick-paved street, complemented by an array of beautifully landscaped flower beds. The steep, hilly track, with eight hairpin turns, offers an unforgettable driving or walking experience, making it a must-visit tourist destination.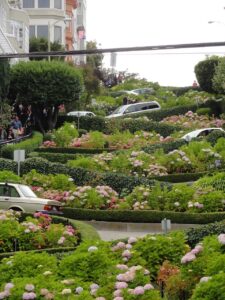 History and Interesting Facts about Lombard Street
Delving into the history of Lombard Street, it was originally constructed in 1922 due to the hill's 27% grade, which was too steep for most vehicles to climb. The famous switchbacks were added not for aesthetic purposes, but for practicality, reducing the hill's natural steepness. An interesting fact is that despite its fame, Lombard Street isn't actually the crookedest street in San Francisco; that honor goes to Vermont Street in the Potrero Hill neighborhood. However, Lombard Street wins hands-down in charm and popularity. It's also home to some of the city's most expensive real estate, mirroring its allure and desirability.
Tips for Visiting Lombard Street
When planning a visit to Lombard Street, there are a few tips to consider for an enjoyable experience. Timing your visit early in the morning or late in the afternoon can help avoid the tourist rush, offering a more relaxed environment to admire the street's beauty. Although driving down the street is a popular activity, consider walking to fully appreciate the stunning views of the city and the bay. Additionally, don't forget to wear comfortable shoes due to the street's steepness. Lastly, while there isn't an admission fee to visit Lombard Street, parking can be limited, so public transportation or ride-sharing services are recommended. Lombard Street, with its blend of history, beauty, and uniqueness, promises an unforgettable San Francisco experience.
The Bustling Pier 39
Located in the vibrant city of San Francisco, Pier 39 is a bustling hub of activity and adventure that awaits every visitor. Known for its splendid waterfront view and an array of captivating attractions, this lively venue is an epitome of fun and excitement. From shopping and dining to simply basking in the stunning views of the bay, Pier 39 has something for everyone. It's a place where radiant sunshine meets the cool breeze of the sea, where laughter and joy resonate in the air, and where unforgettable memories are made. The charm of Pier 39 lies not just in its vivacious atmosphere but also in its ability to fuse the beauty of nature with the thrill of urban entertainment.
Attractions and Entertainment at Pier 39
As a hub of entertainment, Pier 39 offers an array of attractions for people of all ages. It houses various specialty shops that display a wide range of products, from local handicrafts to high-end fashion. Food enthusiasts can enjoy a plethora of dining options, with restaurants serving diverse cuisines, from fresh seafood to local favorites. The pier also hosts a variety of entertainment options, including live music, street performances, and the iconic two-story carousel. Furthermore, it is home to the famous Aquarium of the Bay, where visitors can witness the rich marine life of the Pacific Ocean. The pier's vibrant energy, combined with its variety of offerings, makes it a must-visit destination for every San Francisco visitor.
Marine Wildlife at Pier 39
One of the major highlights of Pier 39 is the opportunity to witness marine wildlife up close. It is famous for the colony of sea lions that reside on its docks. These playful creatures have been a popular attraction since they first began hauling out on the docks following the 1989 Loma Prieta earthquake. Visitors can observe the sea lions basking in the sun and interacting with each other, offering an intimate glimpse into their natural behavior. In addition, a visit to the Aquarium of the Bay provides a journey through the rich and diverse marine ecosystem of the San Francisco Bay and the surrounding waters. It houses over 20,000 marine animals, including sharks, rays, and octopus, offering an immersive experience of the underwater world.
Conclusion: Embrace the Unparalleled Charm of San Francisco
San Francisco, the jewel of Northern California, is a city that offers an enchanting blend of natural beauty and vibrant culture. From the iconic Golden Gate Bridge to the historic Alcatraz Island, its diverse offerings are bound to leave any visitor spellbound. The city's unique character emanates from its diverse neighborhoods, each boasting its own personality. Whether you're strolling through the bustling Chinatown or exploring the hipster vibes of the Mission District, San Francisco promises an experience that's as diverse as the city itself. Its gastronomic scene is a foodie's paradise, serving up a smorgasbord of flavors from around the world. So, when you plan your trip to San Francisco, be ready to embrace the unparalleled charm of this city by the bay.
Let's plan a trip!
San Francisco is more than just a city; it's an experience that leaves an indelible mark on your heart. Its charm lies in its ability to offer something for everyone, irrespective of their age or interests. Whether you're a history buff, a food enthusiast, a nature lover, or just someone looking for a vibrant city vibe, San Francisco will not disappoint. And remember, the city's beauty is not just in its famous landmarks but also in its smaller, lesser-known spots. So, take the time to explore these hidden gems and make your own discoveries. Let's plan a trip to San Francisco!