Custom day trips and shore excursions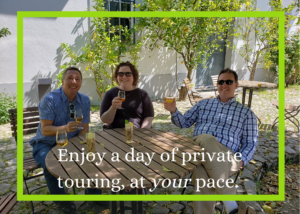 What is better than experiencing the joys of a new place? Doing it on your own schedule with our custom day trips and shore excursions.
If you are going on a cruise, we can customize your shore excursions with either private guided day tours, or small group excursions. For land-based vacations, we can do the same, often keeping the same guide in one city for an even more in-depth experience.
So, why choose custom day trips? Glad you asked!
Go at your own pace. One of the biggest complaints about group tours is that the group moves too fast, or too slowly, for the client's taste. With a private guide, you go at your own pace. Care to linger a little longer at the museum? No problem. Want to take the time for an extra glass of wine with lunch? Why not! Plus, something that really should not be overlooked, but isn't talked about: bathroom breaks when you need them.
Do what you like. Do you have a special love of art history? Or want to know more in depth about the cuisine of the region you are visiting? Regardless of your interests, we can match you with a guide who will be able to talk with you about the subject most interesting to you.
Unparalleled access. Have you ever wanted to see Michelangelo's David but wanted to avoid the crowds in Florence? What if we told you that we can arrange for you to have a private viewing before the museum opens? No way, you say? Indeed, we can. Our guides can get you into secret rooms at the Vatican, opening casks for private whisky tasting in Ireland (and private, custom blending sessions!), an invitation to a private home in Delhi for Diwali, and many, many more. Whatever you want to see and do, we can arrange it for you.
Insider secrets. So, you've had a half day tour of Paris, which was great, but you still have time for several meals on your journey. How can you find some of the best-kept restaurant secrets? Ask your guide! They are happy to share their favorites, which you probably would not find on your own. We did this on a trip to Nice: after the tour, we asked the guide for a dining recommendation for that evening. She mentioned her favorite restaurant, but said it was probably booked. She called, asked for a personal favor, and viola, a table was available for us.
Totally customizable. Have you always wanted to do a food tour but need some special accommodations? We can handle that! We have arranged vegan food tours in Spain, and accommodate all sorts of other requests worldwide. Do you want to sleep late? We can arrange a later start time. Want to be dropped off somewhere specific, like the beach? Let's tailor the trip to end in time to catch some rays.
A special note about shore excursions: We work with companies that offer guarantee back to the ship. No worrying about missing the boat!