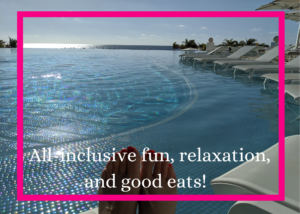 Are you looking for a hassle-free vacation experience where all your needs are taken care of in one location? Look no further than all-inclusive resorts! These one-stop destinations offer everything you could possibly need for a fun and relaxing getaway. From luxurious accommodations to gourmet dining options, endless activities, and entertainment, all-inclusive resorts have it all. Whether you're traveling with a group of friends, your significant other, or your family, there is something for everyone at these resorts. And with most amenities included in the price, you can sit back, relax, and enjoy your vacation without worrying about any unexpected expenses.  While there are all-inclusive resorts all over the world, here we are focusing on Mexico and Caribbean properties.
What exactly is an all-inclusive? Resorts include different amenities, and most include unlimited food, drinks, gratuities, and entertainment. Amenities such as wireless internet, room service, or premium beverage selections will vary between resorts and their packages. Items most often not included in an all-inclusive are spa treatments, items from the gift shop, and optional excursions.
Types of All-Inclusive Resorts
There are several types of all-inclusive resorts, each with its own unique features and attractions. Some of the most common types of all-inclusive resorts include:
Beach Resorts
Beach resorts are perfect for those looking for a relaxing vacation by the water. These resorts offer amenities such as beach chairs, umbrellas, and water sports, as well as dining options that highlight fresh seafood and tropical drinks.
Luxury Resorts
Luxury resorts take all-inclusive to the next level, offering top-of-the-line amenities such as private pools, butlers, and gourmet dining experiences. These resorts are perfect for those looking for a truly indulgent vacation.
Family Resorts
Family resorts are perfect for those traveling with children. These resorts offer amenities such as kids' clubs, water parks, and family-friendly dining options. Plus, many family resorts offer babysitting services, so parents can enjoy some time alone.
Wellness Resorts
Wellness resorts are perfect for those looking to relax and rejuvenate. These resorts offer amenities such as spas, yoga classes, and healthy dining options.
Adult-Only Resorts
Adult-only resorts are perfect for those looking for a romantic getaway or a vacation with friends. These resorts offer amenities such as private beaches, pools, and bars, as well as entertainment options geared towards adults.
Choosing the Right All Inclusive Resort for Your Vacation
As with every vacation, we discuss your specific needs and match you to a resort that fits your wish list.
All-inclusive resorts can be family friendly or adults-only. Beaches, swim-up bars, and sunshine are the norm. The following options are just a few of our top picks. When you are ready to plan your all-inclusive vacation, just give us a call and we will find the perfect resort for you.
A few of the top resorts for families include:
Hotel Xcaret. This property is, in a word, ridiculously amazing. (OK, that was two words.) The hotel itself boasts ten restaurants, more pools than I can count, and access to eight parks and several tours. This is the property for you if you want to see and do as much as possible on your vacation. 
Grand Velas Riviera Maya. Upscale, child-friendly luxury awaits you at Grand Velas.  There are plenty of activities to keep the kids engaged – from outdoor painting classes, to indoor play time and beyond. One of the things that separates Grand Velas is the quality of the dining. With many restaurant choices, you can enjoy gourmet meals throughout your stay. Note that the kids club is open late enough for parents to enjoy a quiet dinner while the young ones are looked after.
The Grand at Moon Palace. They have a full on water park. And bowling alley. And a 1,000-seat theater. That's just a few of the things on offer at the Grand. The resort is huge, so while you may get lost at first, you certainly won't get bored. Spacious rooms and excellent service add to the appeal.
Some of the top adults-only resorts: 
Le Blanc Cancun. Every room comes with a jacuzzi tub and butler service. This is a small resort, by Mexican standards with about 230 rooms. The food and service are excellent, as are the hand-painted chocolates delivered to your room each evening. Look for minimal activities, and three beautiful pools in addition to a lovely beach. There is another, equally fabulous Le Blanc property in Cabo San Lucas.
Jade Mountain. Often noted as the best resort in the Caribbean, Jade Mountain is one of the most exclusive resorts in the Caribbean. While not strictly all-inclusive, adding the inclusive package to your reservation is worthwhile. Suites start at 1400 square feet, and the majority of the rooms boast a private infinity pool with views of the Pitons and the Caribbean Sea.
Secrets (many locations and resorts). If a day of lounging poolside with nothing to do but enjoy the company of the person you are with sounds, well, boring, you will want to choose a resort with more activities. The Secrets properties are larger properties and offer many dining choices, as well as a selection of poolside and evening entertainment. you can spend some time relaxing, but still find yourself with things to do every night.