What makes African safaris unique
An African safari is not your average vacation. It's a once-in-a-lifetime experience that offers something truly unique. One of the things that make an African safari stand out is the chance to see wildlife up close and personal. From the big five (lion, leopard, elephant, rhino, and buffalo) to countless other species, Africa is home to an incredible array of wildlife. Depending on where you go, and what time of year, there are many more animals to see. From the gorillas in Rwanda to the antelope in Botswana, there are many, many options for wonderful vacations. If you time your trip right, you may be able to witness the great migration, where 1.5 million animals move in search of better grazing. Whether you're on a game drive or a walking safari, you're sure to encounter some of the world's most iconic animals.
Another thing that makes an African safari unique is the stunning landscapes. From the savannas of the Serengeti to the wetlands of the Okavango Delta, Africa is home to some of the most breathtaking scenery on the planet. Whether you're watching a sunrise over the plains or enjoying a sundowner by the river, the beauty of Africa is sure to take your breath away.
Lastly, an African safari is unique because of the rich cultural heritage of the continent. Many safari lodges and camps are located in or near local communities, giving travelers the opportunity to learn about the traditions and customs of the people who call Africa home. From traditional dances to local cuisine, there's so much to discover about African culture.
The top African safari destinations
Africa is home to a wide range of safari destinations, each with its own unique attractions. Some of the top safari destinations include:
– Tanzania's Serengeti National Park: Home to the wildebeest migration and some of the best wildlife viewing in Africa.
– Kenya's Masai Mara National Reserve: Another great destination for the wildebeest migration and home to the Masai people.
– Botswana's Okavango Delta: A wetland wilderness that's home to a huge variety of wildlife.
– South Africa's Kruger National Park: One of the oldest and largest game reserves in Africa, famous for its big five sightings.
– Namibia's Etosha National Park: Home to a huge salt pan and a variety of desert-adapted wildlife.
These are just a few of the many destinations you can explore in African safaris.
Luxury properties for your safari
There are many wonderful luxury properties for your safari. Picture a 5-star lodge or tented camp, where you may have your own private plunge pool and outdoor shower. Your luxury camp will include all meals and beverages. Your twice daily game drives and optional walking safaris are led by expert guides and trackers.
Imagine yourself on a game drive, stopping for a cool beverage. Picture yourself stargazing at the clear night sky.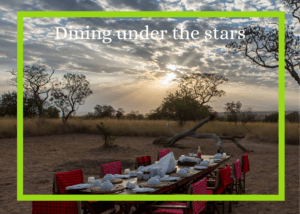 Your African Bucket List trip may not be all about the animals. You may want to visit Cape Town and see the penguins and Robbin Island. Perhaps a couple of days in the Winelands sipping, swirling, and tasting are in your future. Maybe a stop in Johannesburg to visit the Apartheid Museum and take in a local market. Victoria Falls is likely on your list, too. Did you know that we can arrange a canopy tour, an elephant encounter, or a sunset cruise on the Zambezi river? All of these are possible, and more. Plus, we will arrange for VIP airport assistance to help you get your vacation started on the right foot.
Why African safaris should be on your bucket list
An African safari is a truly unforgettable experience that should be on everyone's bucket list. From the stunning landscapes to the incredible wildlife, Africa is a destination that offers something truly unique. Whether you're watching a lioness stalk her prey or enjoying a sundowner by the river, the magic of Africa is sure to capture your heart. So what are you waiting for? Whatever you are looking for in your African safari, we can make it happen. Each trip is customized to your needs and desires.
Book your African safari with us today and discover the true beauty of safari escapes.