Imagine golden sands, sun-kissed waves, and towering palm trees swaying against the turquoise backdrop of the ocean; this dazzling vision aptly describes Miami Beach. Synonymous with luxury, the locale attracts a mosaic of globetrotters seeking exotic retreats replete with a glamorous nightlife, world-class culinary delights, and scenic beauty. The destination seamlessly weaves a vibrant tapestry of cultures, making it a hotspot for explorers hunting for eclectic experiences.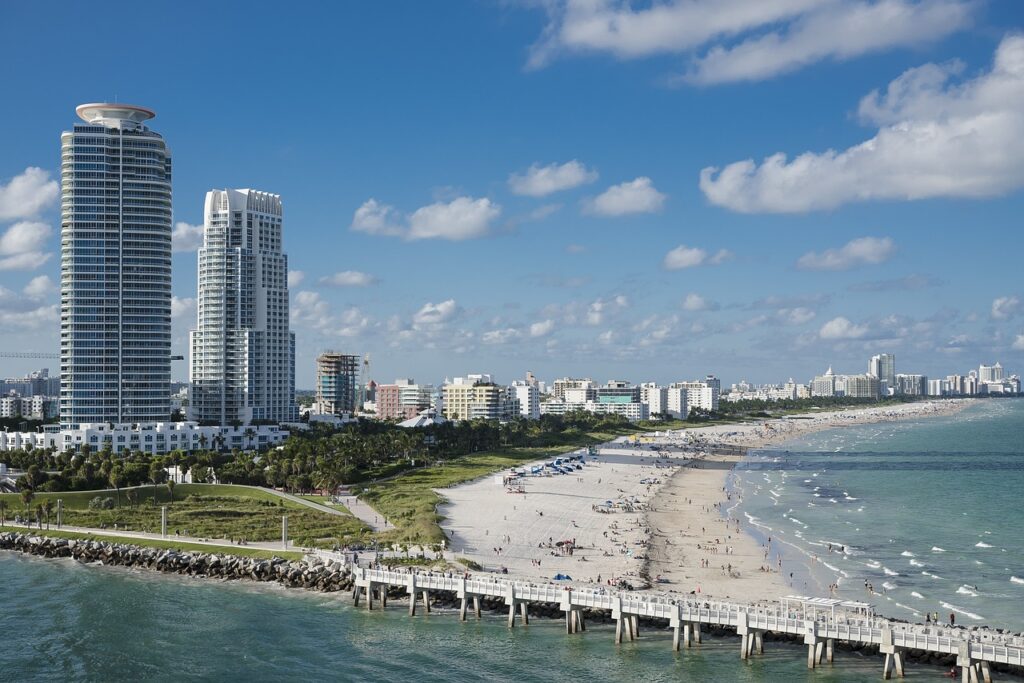 Introduction: The Glamour and Excitement of Miami Beach
A magnolia of glitz and glamour, Miami Beach unearths a fabulous universe of excitement. Radiating an irresistible charm, the city entices with its Art Deco Historic District that houses architectural gems echoing the flamboyant persona of the 1930s. As the sun dips and silhouettes of yachts dot the horizon, the inimitable nightlife sparkles to life, with salsa beats and jazz tunes underscoring the air. Yet, the heart of this enchanting enclave lies perhaps in its multicultural heritage; witness this in overlapping colors and flavors of Little Havana, or Miami's thriving arts scene at the Lowe Art Museum and Pérez Art Museum.
Why Miami Beach is Perfect for a Long Weekend Getaway
Craving an escape from routine? Miami Beach unfurls an intoxicating medley of luxuriant indulgences, making it an irresistible choice for a long weekend getaway. The generous platter of sightseeing, shopping, and outdoor activities offers something for everyone. Unwind along the serene trails of Miami Beach Botanical Garden, step back in time at the Vizcaya Museum and Gardens, or immerse in retail therapy at the Lincoln Road Mall. Additionally, the city hosts a tantalizing array of global cuisine to satiate your gastronomic adventures. As you revel in this sub-tropical paradise, the welcoming vibe and the prospect of endless exploration will assure you: a few sunsets here are never enough.
Get more when you travel with us!
Be our VIP! We will share our insider knowledge, our personalized travel recommendations and get you all the perks!
Call us today!
Exploring Miami Beach's Luxurious Lifestyle
The life of affluence is well-painted in the lavish ambience of Miami Beach. In the city where the sun shines brightly, luxury is not a dream, but a lifestyle lived and savored every day. Adding to its opulence are the extensive wildlife, surreal beaches with crystal clear blue water, extravagant shopping hubs, world-class dining venues, and unparalleled hotel resorts. The indulgence offered by the coastline fosters an environment of extravagance and luxury that is uniquely Miami Beach.
High-End Shopping Experience at Bal Harbour
When it comes to an elevating shopping escapade, nothing can beat the experience at Bal Harbour. Known as a playground for the wealthy, this Miami Beach gem houses high-end fashion stores, elite brands, and designer labels. Unsurprisingly, its high-fashion boutique streets attract fashion enthusiasts and shopaholics from around the globe. It's not just the opulent, high-end shopping that enthralls visitors; the beautifully-designed open-air mall and its mesmerizing oceanic backdrop add to the overall experiential shopping journey.
World-Class Dining and Nightlife
Indulge in an illustrious culinary journey and pulsating nightlife, which further signifies the luxurious essence of Miami Beach. The city shelters a plethora of esteemed restaurants, fine-dining establishments, and exclusive clubs. Miami Beach's culinary scene is a melting pot of diverse cultures, offering everything from Cuban, Latin and Caribbean cuisines to predominantly American and Mediterranean tastes. The city transforms into a lively party hub as the sun sets, with its high-energy clubs and beachfront lounges spontaneously hosting world-renowned DJs and artists, infusing a glamorous touch into the night.
Exquisite Hotels and Resorts
Miami Beach is home to numerous grandeur filled hotels and resorts that spell pure extravagance. Its seafront Resorts and Boutique hotels offer specialized services that go beyond homely comforts. The striking balance of art-deco heritage along with modern luxuries is appreciable. From the iconic Fontainebleau and The Setai to the skyline doyen, The Miami Beach EDITION, every hotel serves as a paradisiacal retreat. The amenity-rich rooms, panoramic ocean views, spas, gourmet restaurants, and chic bars ensure guests a taste of unrivalled luxury complemented by warm hospitality.
The Adventurer's Guide to Miami Beach
Sun-kissed Miami Beach is a paradise for adventurers, wrapped in the promise of thrilling escapades and cultural exploration. Perched on Florida's southern tip, this vibrant city pulsates with energy, offering a plethora of activities for thrill-seekers. Bask in the radiant sunshine, delve into the rich history, marvel at the artistry of its distinctive architecture, or discover the allure of its unique neighborhoods. Let's embark on an adventure through the mesmerizing Miami Beach, unraveling its alluring charm.
Water Sports and Outdoor Activities
Miami Beach serves host to an array of adrenaline-pumping water sports and outdoor activities. Dive into the invigorating Atlantic waves for a surf lesson, feel the ocean breeze on a yacht charter, or take a paddleboarding expedition around Biscayne Bay. For land-based thrills, cycle down the beachfront boardwalk, engage in beach volleyball, or take a scenic run in Lummus Park. Wildlife enthusiasts might opt for a tour of Everglades National Park, home to mangroves, alligators, and many unique bird species. Every venture breathes new life into the panoramic beauty of Miami Beach, transforming your holiday into an exhilarating adventure.
Exploring Miami's Art Deco Historic District
Beyond the golden sands and turquoise waters, Miami Beach shines a spotlight on its iconic past through the Art Deco Historic District. Situated in the heart of South Beach, this district hosts an impressive collection of over 800 preserved buildings dating back to the 1920s-1930s. This area is resplendent with candy-colored structures, decorative motifs, nautical influences, and glamorous neon signage. Walking through these iconic ocean drive streets is like stepping back in time, experiencing the glamour and charm of a bygone era. Remember to take a sunset stroll by the district, when the neon ignites, offering a mesmerizing spectacle of lights.
Visit the Vibrant Neighborhoods: Little Havana & Wynwood Walls
As you delve deeper into Miami Beach, you discover the city's diverse culture, particularly in neighborhoods like Little Havana and Wynwood. Little Havana, the heart of Miami's Cuban community, offers rich cultural experiences where you can indulge in authentic Cuban cuisine, sip robust Cuban coffee, and tap your feet to Salsa rhythms. Meanwhile, Wynwood Walls offers a creative explosion of street art. Massive warehouses metamorphose into canvases for international artists, transforming the district into an outdoor art gallery. A tour around these neighborhoods reveals the multi-faceted soul of Miami – pulsating with life, color, and passion.
Miami Beach: A Cultural Melting Pot
The vibrant city of Miami Beach, fondly known as the "Magic City," is a hub of diverse traditions, languages, foods, music, and art, demonstrating its rich cultural diversity. Shaped by influences from Latin America, the Caribbean, Europe, and beyond, every corner of this South Floridian paradise speaks of its unique amalgamation of cultures. The city boasts an array of colorful neighborhoods, including the historic Art Deco District, the lively Calle Ocho in Little Havana, and the Caribbean-vibe infused Miami's Little Haiti, offering an authentic taste of the world to locals and visitors alike.
Experiencing Miami's Rich Cultural Diversity
Immersing oneself in Miami's cultural kaleidoscope promises a multidimensional experience. As you stroll down the streets, the lullaby of Spanish, English, Creole, and other languages fills the air, harmoniously coexisting and enriching the city's cultural tapestry. The culinary scene is equally dynamic, ranging from Cuban sandwiches in Little Havana to gourmet sushi in Miami Design District. Touring there, one might encounter exhibitions that narrate immigrant stories, or celebrations highlighting Afro-Caribbean traditions. Influences from different cultures are also visible in the architecture, with Caribbean colors enlivening the Art Deco facades, Mediterranean elements in Coral Gables, and modern impressions in the Design District.
Music and Art Festivals: A Celebration of Cultures
Music and art festivals in Miami Beach play a significant role in displaying the city's cultural richness. These events are a celebration of the amalgamation of different cultures and traditions and provide a spectacular platform for artists from across the globe. From the world-famous Ultra Music Festival, which brings together world-renowned DJs, to Art Basel, showcasing contemporary and modern art pieces from established and budding artists alike, these events are a feast for the senses. Miami's ethnic carnival, Calle Ocho Festival, showcases vibrant Latino music, dance, and cuisine, displaying the city's Latino heritage. Similarly, the Haitian Compas Festival celebrates Haiti's musical influence, epitomizing the city's ability to embrace and promote cultural diversity.
Planning Your Dream Long Weekend in Miami Beach
An idyllic vacation awaits at Miami Beach, an international destination that promises the joy of pristine sands, vibrant nightlife, and offbeat experiences. This Florida city boasts an impressive blend of Art Deco history, Latin-inspired culture, and tropical ambiance that attracts visitors worldwide. Whether you aspire to soak up the sun on South Beach, experience the buzzing dining scene, or shop in the stylish boutiques, setting out a well-thought-out plan is imperative to enjoy your dream vacation to the fullest.
Best Time to Visit Miami Beach
Choosing an ideal period for your trip plays a significant role in curating an unforgettable vacation. Although Miami Beach exudes a sun-soaked appeal year-round, the period from Mid-February to May offers the most pleasant weather. During these months, you'll appreciate the balance between sunny and balmy, with lower rain chances. Besides the weather, this time also aligns with various events like the Miami Beach International Fashion Week, Winter Music Conference, and the Ultra Music Festival, offering diverse cultural experiences.
Accommodation Options: From Luxury Resorts to Boutique Hotels
Miami Beach brims with a rich assortment of lodging options sufficing every taste and budget. Those seeking the highest tier of luxury can consider high-end resorts like Faena Hotel Miami or The Setai that greet guests with opulent rooms and stunning ocean views.   For ultimate spa experiences 1 Hotel South Beach or The Miami Beach EDITION would fit the bill.
As VIP Clients of Live Well, Travel Often we can offer you exclusive amenities at many luxury hotels in Miami Beach:
Upgrade on arrival, subject to availability
Daily breakfast for up to two guests per bedroom
$100 USD equivalent Hotel Credit, applicable towards Food & Beverage o(not combinable, not valid on room rate, no cash value if not redeemed in full)
Early Check-In / Late Check-Out, subject to availability
Complimentary Wi-Fi