Uncover the Timeless Beauty of Bath: A Delightful One Day Trip
Are you craving a break from the hustle and bustle of city life? Look no further than the picturesque city of Bath, England. Nestled on the banks of the River Avon, this UNESCO World Heritage site is the perfect destination for a day trip that promises a unique blend of ancient history, stunning architecture, and a relaxing atmosphere. Join us as we explore the hidden gems and must-see attractions that await you in this one-of-a-kind city.
Get more when you travel with us!
Be our VIP! We will share our insider knowledge, give you customized, personalized travel recommendations and get you all the perks!
Call us today!
Soak in the Ancient Roman Legacy:
Did you know that Bath boasts one of the best-preserved Roman remains in the world? The Roman Baths, dating back to the 1st century AD, allow you to step into history and experience the opulence and grandeur of the Roman Empire. As you wander through the beautifully preserved bathhouse and admire the steamy thermal waters, you'll be transported back in time to an era where relaxation and luxurious indulgence were paramount.
Luxury awaits at the Thermae Bath Spa:
Experience the ultimate relaxation at Thermae Bath Spa, a must-visit destination during your trip to Bath. This enchanting city is renowned for its natural hot springs, which have been a cornerstone of its existence since Roman times.
While the historic Roman Baths may not be available for bathing, Thermae offers a chance to immerse yourself in the soothing, mineral-rich waters of the hot springs. The highlight of this spa is its rooftop pool, boasting breathtaking views of Bath Abbey and the picturesque Somerset hills. The water, sourced from Bath's three hot springs, gently warms to a comfortable 34 ºC (93 º Fahrenheit) for a truly luxurious bathing experience.
Included in your ticket price, the wellness center provides a range of additional amenities. Indulge in the scented steam rooms, unwind in the calming infra red room, or transport yourself to another world in the space-themed relaxation room. For an invigorating sensation, make sure to visit the ice chamber and rub yourself down with refreshing ice crystals, providing a cooling and exfoliating effect.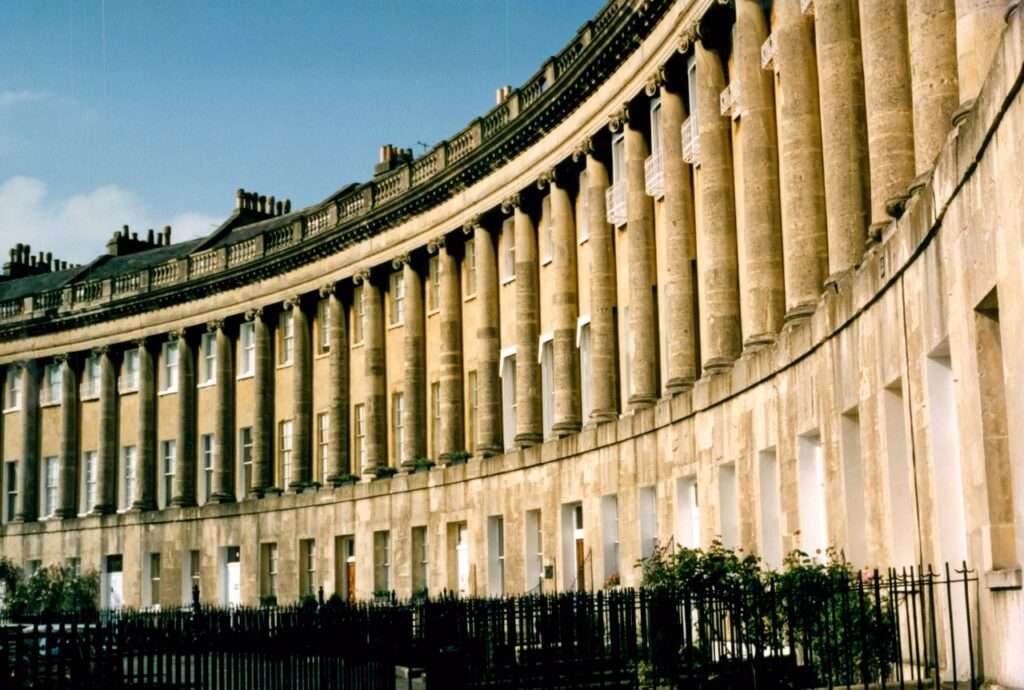 Marvel at Architectural Marvels:
Bath is famous for its Georgian architecture, showcased beautifully in the iconic Royal Crescent. This magnificent crescent-shaped collection of 30 terraced houses is a work of art, emanating gracefulness and refinement. Capture a picture against this picturesque setting, then wander through the delightful streets adorned with honey-colored limestone structures, each possessing its own distinct allure and personality.
Get Lost in the Magic of The Circus:
Imagine a place where magic and whimsy come to life – welcome to The Circus! This circular street, designed by the famous architect John Wood, encompasses a sense of enigma and mystique. The symmetrical facades, adorned with elaborate details, invite you to explore further as you wander through this enchanting neighborhood. Don't be surprised if the magic seems to transport you to another era.
Indulge in a Jane Austen Experience:
If Jane Austen is your literary idol, you're in for a treat in Bath. Embark on a journey through time as you visit The Jane Austen Centre, a museum dedicated to the beloved author. Discover fascinating insights into Austen's life, immerse yourself in the Regency era, and even slip into a Regency-style gown or top hat for an unforgettable photo opportunity.
Take a Stroll in Prior Park Landscape Garden:
For nature lovers seeking solace in the midst of an urban excursion, Prior Park Landscape Garden offers tranquility and unmatched beauty. This 18th century garden, designed by poet Alexander Pope and landscape architect Capability Brown, boasts breathtaking vistas, serene lakes, and ornate bridges. Take a leisurely stroll amidst the vibrant flowers, and let the peaceful ambiance wash away any stress or worries.
Take Afternoon Tea at the Pump Room
During the Georgian era, the Pump Room served as a fashionable gathering place and was frequented by esteemed individuals like Jane Austen. The Pump Room is prominently featured in Austen's novels, including Northanger Abbey and Persuasion. As a fan of Austen, you can easily visit the Jane Austen Centre during your leisure time, as it is conveniently located within walking distance of other popular attractions in Bath's city center.
Indulge in the Pump Room afternoon tea, featuring an array of delicious savory sandwiches, tarts, scones, and pastries, accompanied by a delightful pot of tea or coffee. For those seeking a touch of effervescence following a morning at Thermae, you have the option to enhance your afternoon tea experience with a glass (or even a bottle) of Champagne or English sparkling wine for some added sparkle.
Spend your Evening doing a Pub Crawl
History buffs or ale enthusiast will enjoy a cozy spot to unwind at the end of your travels at one the many pubs.
Located near the iconic Pulteney Bridge, The Star Inn is a pub that effortlessly combines history and warmth. Stepping inside feels like taking a journey back in time, as you admire the traditional beams, cozy fireplaces, and vibrant stained glass windows. Offering a wide range of craft beers, ales, and scrumptious pub fare, The Star Inn provides a quintessential British pub experience you won't want to miss.
For those seeking a true ale heaven, The Bell Inn is an absolute must-visit. Situated in one of Bath's oldest buildings, this pub boasts an extensive selection of local cask ales, sourced from the finest breweries in the region. With its friendly atmosphere, knowledgeable staff, and a menu featuring hearty, traditional pub meals, The Bell Inn promises an unforgettable experience for beer aficionados.
Prepare to be enchanted as you step into The Raven of Bath. Decked out with quirky interiors, including eccentric artwork, vintage chandeliers, and a cozy book nook, this pub offers a whimsical and laid-back ambiance. Be sure to sample their carefully curated cocktail menu, which perfectly complements their delicious handcrafted food. With live music events and a gorgeous garden to bask in on sunny days, The Raven of Bath is a true hidden gem.
A few others to check out are The Saracen's Head or The Cork Bath!
Spending a day in Bath
A day trip to Bath promises to leave you enchanted and captivated. From the Roman legacy and architectural splendor to literary inspirations and stunning natural landscapes, this city has it all. So, don't miss the opportunity to immerse yourself in the timeless beauty of Bath, England. Pack your bags, put on your exploring shoes, and get ready for an unforgettable adventure that will leave you longing to return for
Lucknam Park Hotel & Spa
Located just six miles east of Bath, Lucknam Park Hotel & Spa truly represents the essence of country-house living. This luxurious establishment offers a wide range of amenities including an equestrian center, football pitch, cycling trails, and tennis courts. With 42 beautifully decorated rooms and suites, as well as 7 charming country cottages, Lucknam Park is the perfect destination for families, small groups, or couples looking for a truly indulgent retreat.
For those seeking quality family time, The Hideaway provides a peaceful haven. After a day of exploring the stunning countryside on horseback, guests can return to their comfortable bedrooms and unwind with a relaxing soak in the bath. The spa at Lucknam Park offers a range of treatments from renowned brands such as 111 Skin and Natural Spa Factory, ensuring ultimate relaxation and rejuvenation.
When it comes to dining options, guests can enjoy casual meals in The Brasserie, or opt for a truly exceptional culinary experience in the Michelin-starred Restaurant Hywel Jones. Whether you're looking for a relaxed evening or an exquisite fine dining affair, Lucknam Park has something to suit all tastes.
Overall, Lucknam Park Hotel & Spa is the epitome of luxury and elegance, offering a multitude of activities and amenities combined with top-notch services.
The Royal Crescent Hotel & Spa
The Royal Crescent Hotel & Spa, a five-red-star establishment, is more than just a typical hotel. Situated in the stunning Georgian architecture of the Royal Crescent, this iconic hotel and its Spa & Bath House have been beautifully renovated to cater to the needs of modern travelers. With 45 elegant suites and rooms that combine contemporary design with period features, guests can choose between views of the park or the peaceful gardens, which even includes a wedding garden for small ceremonies. The Montagu's Mews Restaurant offers exquisite modern British cuisine with a touch of finesse, while indulging in the traditional afternoon tea is highly recommended. In addition, the renowned Roman Baths and the city's charming independent shops are just a short walk away.